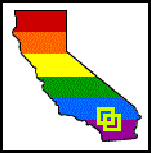 © 2022 Golden State Squares
Southern California Clubs
There are several gay square dancing clubs in Southern California. As a convenience, information for reaching them is listed below.
Boots in Squares, Palm Springs
Cuesta Squares, San Luis Obispo
Finest City Squares, San Diego
Shoreline Squares, Long Beach
Tinseltown Squares, Los Angeles / West Hollywood
Other Organizations
Many of the clubs listed above, including Golden State Squares, are members of the IAGSDC- the International Association of Gay Square Dance Clubs. Check out their web site for additional information.